Office 365 is the first choice of many businesses as it offers Microsoft's functionality of its full suite of collaboration and productivity tools. Your users are familiar with Microsoft Office (like Word, Excel, PowerPoint, Publisher, Outlook) as they have been using it over from years.
Plus, Microsoft's cloud-based hosting offers a cost-effective method to host the business email that comes with 99.9% guaranteed uptime and allows you to scale your organization effortlessly when it comes to user accounts and mailboxes. However, if your email hosting service provider is a different one (managed by a third-party other than Microsoft), you need to perform a migration to move your mailboxes in Office 365.
Hence, if the above case is applicable to you, we have put together this article where we shall discuss how to perform a migration from GoDaddy to Office 365.
Excellent service and support. I am very happy with Apps4Rent. The migration of Office 365 from GoDaddy is one that plenty of people have no idea what to do, or how to do it best and even the ones that do have trouble with GoDaddy. Thank you very much. You made the process painless for me."
Kerry Homburg
Marketing company in Cincinnati, Ohio
Steps Before Planning for Office 365/ Microsoft 365 Migration from GoDaddy
To migrate from GoDaddy to Office 365 tenant, you shall need the following information:
Access to your Office 365 administrator account
Access to your GoDaddy administrator account
Login credentials of all users' mailboxes that are to be migrated
Step 1: Export Users' Mailbox Data from GoDaddy Email
You need to export the login data of the mailboxes that you wish to migrate from GoDaddy to Office 365. You will need to have access to their mailboxes to complete migration from GoDaddy to Office 365. Your CSV file is now ready with the requisite information.
Step 2: Set Up Your Microsoft Office 365 Account
In this step, it is assumed that you do NOT have a purchased domain that has been configured to work with your Microsoft Office 365, nor do you have a tenancy for Office 365.
The emails created and the users' profiles are now in the Office 365 system. Before the migration begins, it is a good idea to create a store of the contacts and calendar information because the IMAP migration that is going to be performed from GoDaddy to Office 365 does not migrate those. Hence, a local copy of the data should be created and saved on your system.
Step 3: Create a Local Copy of Contacts and Calendar
To create a local copy of contacts and calendar, please follow the steps. After launching the Outlook client, you can click on the 'File' option from your menu.
After creating a copy of your contacts and calendar locally, now come to a real major step: Migrate mailboxes from GoDaddy to Office 365/ Microsoft 365.
Step 4: Begin the GoDaddy Email Migration to Office 365
Now that you have set up your Office 365 as well as made local copies of your contacts and calendar information, you are ready to begin the migration. After logging into Office 365 Admin Center, go to Exchange Admin Center. After clicking on 'Recipients', select the option of 'Migration'. Follow the consecutive steps with the guidance of an Office 365 expert.
If you selected the automatic batch migration option, your migration process will have begun, and you shall see the name of your migration batch with the status of 'Syncing' next to it if everything went correctly. The whole process might take some time, so please be patient. Once the migration process has been completed successfully, the status shall change to 'Synced'.
Step 5: Route Your Incoming Emails to Office 365
The migration process has been completed, but you need to configure your DNS records so that incoming emails are routed to your Office 365 email mailbox.
Once you update the MX records and Autodiscover records to that of Office 365, any incoming email to GoDaddy shall be redirected to Office 365 instead.
Step 6: Configure Outlook for Office 365
Now that you have successfully migrated from GoDaddy to Office 365, you need to configure your Outlook client for Office 365 as well.
After this, your Outlook client shall restart and when it does, you will see your new profile (which you just updated) listed. The PST files that you had previously created and saved as local copies implemented in Step 3 can now be imported.
Step 7: Delete the Migration Batch
At this point, you can test whether the incoming emails are being routed to your Office 365 system or not. If it is, then you can go back to the migration wizard and then select the migration batch that says 'Synced' as status and click on the trash can icon to delete it. Subsequently, complete any necessary account cleanup on your system.
Apps4Rent Can Help with GoDaddy to Office 365 Migration
Email migration is never an easy task; while the steps are not difficult to follow, the process itself can be quite long and tedious to perform. Additionally, there are always chances of errors happening which could cost the company dearly. We provide email migration services to help move your email to Office 365 with 24/7 end-user support, without data loss or downtimes during migration.
As a Microsoft Solutions Partner, Apps4Rent can help businesses acquire Microsoft 365/ Office 365 subscriptions and also seamlessly migrate email from GoDaddy to Office 365 using a staged or cutover migration technique. Reach out to our Microsoft-certified email migration experts who are available 24/7 via phone, chat, and email for assistance.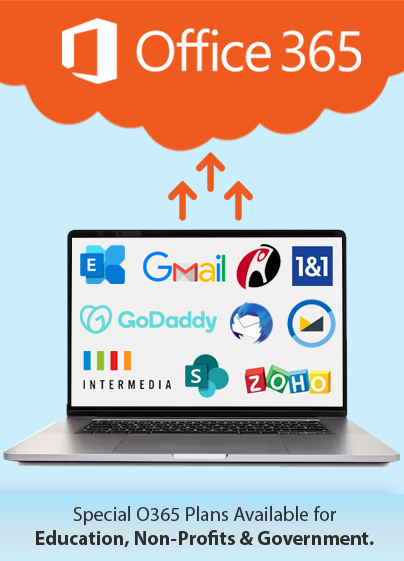 Get FREE migration to Office 365