Office 365 is the first choice of many businesses as it offers Microsoft's functionality of its full suite of collaboration and productivity tools. Your users are familiar with Microsoft Office (like Word, Excel, PowerPoint, Publisher, Outlook) as they have been using it over from years.
Plus, Microsoft's cloud-based hosting offers a cost-effective method to host the business email that comes with 99.9% guaranteed uptime and allows you to scale your organization effortlessly when it comes to user accounts and mailboxes. However, if your email hosting service provider is a different one (managed by a third-party other than Microsoft), you need to perform a migration to move your mailboxes in Office 365.
Hence, if the above case is applicable to you, we have put together this article where we shall discuss how to migrate GoDaddy Office 365 to Microsoft .
Excellent service and support. I am very happy with Apps4Rent. The migration of Office 365 from GoDaddy is one that plenty of people have no idea what to do, or how to do it best and even the ones that do have trouble with GoDaddy. Thank you very much. You made the process painless for me."
Kerry Homburg
Marketing company in Cincinnati, Ohio
Why Migrate from GoDaddy to Office 365?
There are various reasons why organizations or individuals should consider this migration. Here are some of them:
Enhanced Productivity and Collaboration: Office 365 offers a suite of productivity and collaboration tools, including Word, Excel, PowerPoint, Outlook, SharePoint, OneDrive, and Teams. These tools are designed to streamline communication and collaboration among team members, making it easier to work together on projects and share resources.
Scalability and Flexibility: Office 365 provides scalable plans that can accommodate the needs of both small businesses and large enterprises. As your organization grows, you can easily upgrade your Office 365 subscription to access more features and resources.
Integration with Other Tools: Office 365 seamlessly integrates with other Microsoft services and third-party applications, allowing for a more connected and integrated digital workplace.
Centralized Management: Office 365's centralized administration console allows IT administrators to manage user accounts, security settings, and access permissions from a single interface, simplifying overall management tasks.
Advanced Threat Protection: Office 365 includes features such as Exchange Online Protection (EOP) and Microsoft Defender for Office 365, which offer advanced threat detection, email filtering, and anti-malware solutions to safeguard against various cyber threats, including ransomware, phishing attacks, and malware.
Automatic Software Updates: Office 365 applications and services receive automatic updates, ensuring that you always have access to the latest features, bug fixes, and security enhancements.
Compliance and Regulations: Office 365 provides tools and features to help organizations meet various industry-specific regulations and compliance standards, which can be crucial for businesses in regulated sectors.
Steps Before Planning for Office 365/ Microsoft 365 Migration from GoDaddy
To migrate from GoDaddy to Microsoft 365/ Office 365 tenant, you shall need the following information:
Access to your Office 365 administrator account
Access to your GoDaddy administrator account
Login credentials of all users' mailboxes that are to be migrated
Step 1: Export Users' Mailbox Data from GoDaddy Email
You need to export the login data of the mailboxes that you wish to migrate from GoDaddy to Office 365. You will need to have access to their mailboxes to complete migration from GoDaddy to Office 365. Your CSV file is now ready with the requisite information.
Step 2: Set Up Your Microsoft Office 365 Account
In this step, it is assumed that you do NOT have a purchased domain that has been configured to work with your Microsoft Office 365, nor do you have a tenancy for Office 365.
The emails created and the users' profiles are now in the Office 365 system. Before the migration begins, it is a good idea to create a store of the contacts and calendar information because the IMAP migration that is going to be performed from GoDaddy to Office 365 does not migrate those. Hence, a local copy of the data should be created and saved on your system.
Step 3: Create a Local Copy of Contacts and Calendar
To create a local copy of contacts and calendar, please follow the steps. After launching the Outlook client, you can click on the 'File' option from your menu.
After creating a copy of your contacts and calendar locally, now come to a real major step: Migrate mailboxes from GoDaddy to Office 365/ Microsoft 365.
Step 4: Begin the GoDaddy Email Migration to Office 365
Now that you have set up your Office 365 as well as made local copies of your contacts and calendar information, you are ready to begin the migration. After logging into Office 365 Admin Center, go to Exchange Admin Center. After clicking on 'Recipients', select the option of 'Migration'. Follow the consecutive steps with the guidance of an Office 365 expert.
If you selected the automatic batch migration option, your migration process will have begun, and you shall see the name of your migration batch with the status of 'Syncing' next to it if everything went correctly. The whole process might take some time, so please be patient. Once the migration process has been completed successfully, the status shall change to 'Synced'.
Step 5: Route Your Incoming Emails to Office 365
The migration process has been completed, but you need to configure your DNS records so that incoming emails are routed to your Office 365 email mailbox.
Once you update the MX records and Autodiscover records to that of Office 365, any incoming email to GoDaddy shall be redirected to Office 365 instead.
Step 6: Configure Outlook for Office 365
Now that you have successfully migrated from GoDaddy to Office 365, you need to configure your Outlook client for Office 365 as well.
After this, your Outlook client shall restart and when it does, you will see your new profile (which you just updated) listed. The PST files that you had previously created and saved as local copies implemented in Step 3 can now be imported.
Step 7: Delete the Migration Batch
At this point, you can test whether the incoming emails are being routed to your Office 365 system or not. If it is, then you can go back to the migration wizard and then select the migration batch that says 'Synced' as status and click on the trash can icon to delete it. Subsequently, complete any necessary account cleanup on your system.
What Are the Challenges in GoDaddy to Office 365 Migration?
Migrating from GoDaddy to Office 365 can come with several challenges due to differences in platforms, data migration, and technical configurations. Here are some common challenges:
Data Migration Complexity: Transferring email, files, contacts, calendars, and other data from GoDaddy's platform to Office 365 requires careful planning and execution. Data might need to be reformatted, mapped, and validated to ensure a seamless transition.
Technical Compatibility: GoDaddy and Office 365 might have different technical requirements and settings. Ensuring compatibility between the two platforms can be challenging, especially when dealing with email configurations, DNS records, and domain settings.
Disruption: During the migration process, any instances of power outages or network interruptions could result in data loss.
Migration Tools Limitations: While both GoDaddy and Office 365 provide migration tools, they might have limitations in terms of the types of data they can migrate or the efficiency of the process.
Apps4Rent Can Help with GoDaddy to Office 365 Migration
Email migration is never an easy task; while the steps are not difficult to follow, the process itself can be quite long and tedious to perform. Additionally, there are always chances of errors happening which could cost the company dearly. We provide email migration services to help move your email to Office 365 with 24/7 end-user support, without data loss or downtimes during migration.
As a Microsoft Solutions Partner, Apps4Rent can help businesses acquire Microsoft 365/ Office 365 subscriptions and also seamlessly migrate email from GoDaddy to Office 365 using a staged or cutover migration technique. Reach out to our Microsoft-certified email migration experts who are available 24/7 via phone, chat, and email for assistance.
Frequently Asked Questions (FAQs):
1. How long does the email migration process from GoDaddy to Office 365 typically take?
The timeline for an email migration can vary based on several factors. It depends on the amount of data you're moving, how complex your existing email setup is, and the migration method you choose. For small to medium-sized businesses, the migration process can often be completed within a few days. However, larger organizations with extensive data and intricate configurations might find that the process takes several weeks. It's important to plan accordingly to minimize any disruption during the transition.
2. Will I need to update my domain's DNS settings during the migration?
Yes, updating DNS settings is a critical part of the migration process when moving from GoDaddy to Office 365. This step ensures that your emails are correctly routed to the new Office 365 mailboxes. By configuring DNS records to point to Office 365 servers, you'll help guarantee a seamless transition. It's an essential step in maintaining uninterrupted email communication.
3. What backup and data retention options are available during and after the migration?
Office 365 offers valuable backup and data retention features to help safeguard your information. During the migration process, you can utilize features like archiving to ensure that your data remains secure and accessible. After the migration is complete, you have the flexibility to establish data retention policies tailored to your organization's specific requirements. These policies allow you to retain and manage data according to your compliance and retention needs, providing added peace of mind.
4. Do I need professional assistance to migrate GoDaddy Office 365 to Microsoft?
Migrating to Office 365 can be a complex process, and that's where professional services become essential. You have the option to seek professional assistance from a trusted partner like Apps4Rent. As a Tier 1 Microsoft Office 365 Partner with over 10,000 successful migrations, Apps4Rent specializes in handling the intricacies of migrations to Office 365. With our expertise, you can confidently migrate without the need for in-depth technical knowledge while ensuring there is no data loss or downtime during the process. Our team will guide you through every step of the migration, making it a smooth and hassle-free experience for your organization.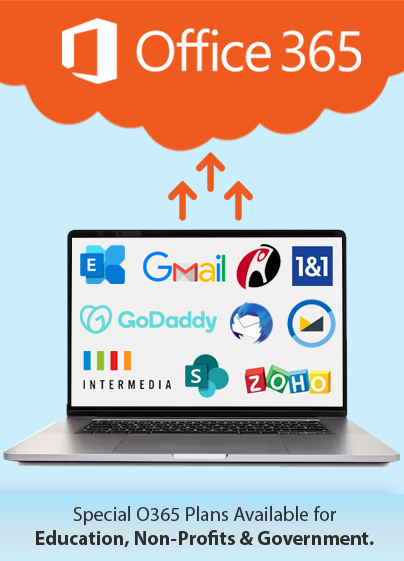 Get FREE migration to Office 365