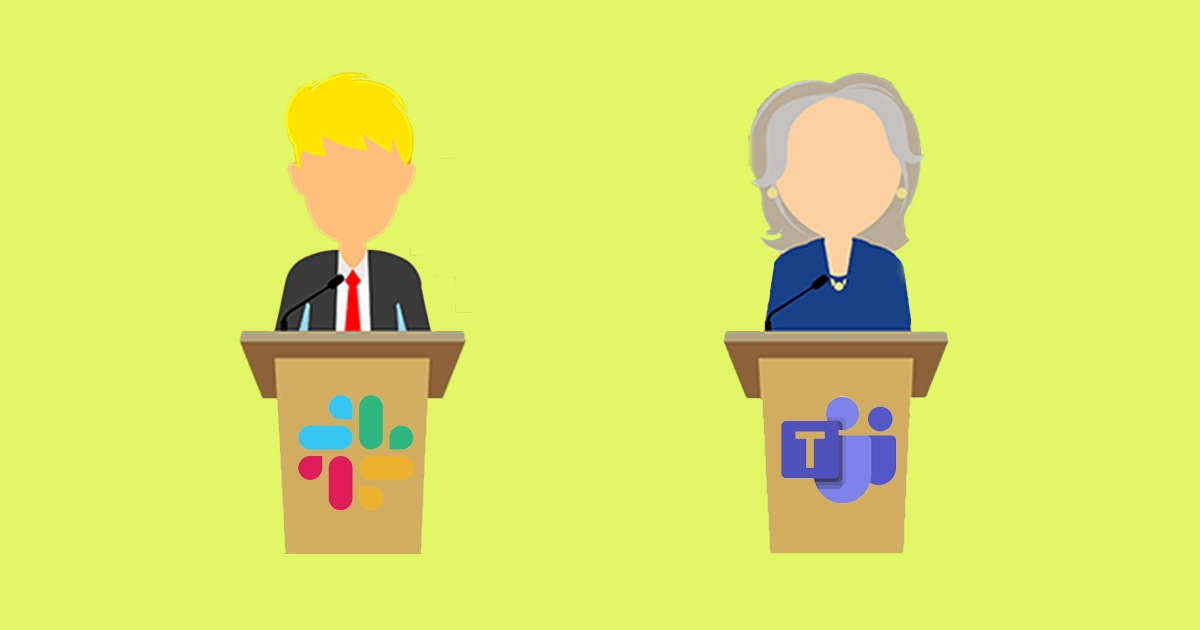 Slack and Microsoft Teams are the two best business collaboration software out there. Slack was launched in 2013, while Teams was introduced only in 2017. Slack is the "cool kid" who's popular in the neighborhood for his looks. On the other hand, Microsoft Teams is a serious kid who had to grow up well before his childhood. As things stand today, the serious kid has entered its early adulthood after being guided by his mentor. Meanwhile, the cool kid is also being mentored to adopt pragmatism in the long run. Satya Nadella and Stuart Butterfield, the mentors for Teams and Slack respectively, have invested a lot of their time to nurture and guide their babies.
Though it was rumored that Microsoft would buy Slack in early 2016, the news just turned out to be a grapevine. But there is no smoke without fire. Microsoft vetoed the idea of purchasing Slack in early 2016 and instead decided to revamp its own collaboration software, Skype for Business. However, they released Microsoft Teams in 2017. Microsoft's intentions were very clear – bring a direct competitor to Slack and eventually replace Skype for Business with Microsoft Teams. Slack, on the other hand, denied any possibility of competition from Microsoft Teams. Fast forward to 2019, Microsoft Teams surpassed Slack's market share with 13 million daily users against Slack's 10 million.
What could be the reason why Microsoft Teams came back from behind to capture Slack's market share? Well, we have four reasons to compare Microsoft Teams vs Slack features:
Integration with Office 365

We believe Microsoft played it very smart by bundling Microsoft Teams with Office 365. Though Slack hoped that such bundled offering may possibly go Bing or Google+ way, it was a gamechanger for Microsoft Teams. Even after bundling Bing with Microsoft products, Google still massively dominates the search engine market. The same was the case with Google+, which was promoted heavily on the back of seamless Google integration, but failed to take off and died a slow death. Microsoft Teams was available for free as a part of Office 365 plans, which was a way to familiarize users with Microsoft Teams.

Microsoft Teams is tightly integrated with other Office 365 apps, while Slack also has integration capabilities with third-party applications. Slack is also improving its integration capabilities with Google Suite, which is a direct competitor to the Office 365 suite.

If you are working on an Excel file with a need to share it with colleagues, Microsoft Teams is a much better option as you don't have to download the files and work on them separately. The in-built integration with MS Office tool makes it very easy to use. Without leaving the Microsoft Teams workstation, you can complete your tasks without switching tabs or apps.

Better Storage Limit

Microsoft Teams offer space of 1 TB per organization for Essentials and Premium plans along with the upload limit of 15 GB per file. On the contrary, Slack allows 20 GB of total space in its highest-priced plan with the upload limit of 1 GB per file. You can use the 'Search' option in Microsoft teams to browse through unlimited messages, while it's limited to the recent 10,000 messages in Slack.

Also as compared to Teams, Slack consumes a considerable amount of memory while making a video call or sharing large data files. When it comes to storage limits, Microsoft Teams is definitely the winner here.

Advanced Security & Data Protection Capabilities

There is no default data protection capability in Slack to prevent data leakage by identifying and controlling access to sensitive information. While on the other hand, Office 365 comes with in-built data leakage prevention capabilities. Microsoft Teams & Slack both offer two-factor authentication and SSO via AD or SAML. However, Slack has been vulnerable to data hacks in the past.

Microsoft Teams is governed by security guidelines guaranteed by Microsoft. Though Slack is compliant with many regulatory requirements including GDPR, it lags behind the enterprise-level security features offered by Office 365. When it comes to compliance to which your legal team would agree, Microsoft beats Slack comprehensively in this regard.

When it comes to choosing between Slack vs Teams for security purposes, Microsoft Teams again is a clear choice.

Better Video Conferencing Abilities

Though Slack is aesthetically pleasing with all the visually appealing features, it's Microsoft Teams which has a simple and clutter-free interface. Microsoft Teams has a left navigation bar that has almost everything you'll need from the application. One major advantage of Microsoft Teams is the number of people that can join the calls. Microsoft Teams allows up to 80 participants to be present on the call, while Slack is limited to only 15 participants. Hence, Slack won't be suitable for enterprises with large teams which has needs of regular collaboration.
These are four major reasons why Microsoft Teams has an advantage over Slack. With a combination of integrated features and superior collaboration features, Microsoft Teams has not only competed with Slack but surpassed it in the race of market share. Now, what would you choose – Teams or Slack?
If you are looking to incorporate Microsoft Teams as your primary collaboration software, Apps4Rent experts will help you do so. Contact us now!
Also Read: All you need to know about Microsoft Teams