When it comes to email services, it is almost always Gmail vs Outlook. While there are other email service providers, Google and Microsoft are the two most known names in the industry. We understand that with two tech titans fiercely competing against each other, it can be confusing to pick one from the pair. You can always opt to maintain accounts on both Microsoft Outlook and Gmail, but in case you had to select just one from the two, which one would you go for?
To resolve your dilemma, we have compared Gmail vs Outlook in this article based on five features including storage, attachment limits, privacy, productivity and collaboration, and finally, email organization. Are you wondering who the winner between Gmail vs Outlook is? Read on!
Storage
When choosing an email service provider, one of the main factors to consider is storage. Nobody likes to wake up to a rude awakening about their email inbox filling up completely. Naturally, the more storage an email service offers, the better it is. In this department, Outlook has an advantage over Gmail because it offers 15 GB of email and cloud storage. In comparison, Microsoft Outlook offers you 15 GB of email storage space and an additional 5 GB for storing your files in the OneDrive cloud.
Winner: Microsoft Outlook
Attachment Sizes
What is the maximum size of an attachment that you can send via email? It makes things easier to share your files in a simple way. While you can always send large files through cloud storage services, it is still not as convenient as dragging and dropping them into your email. Speaking of attachment limits, Microsoft Outlook has a default limit of 20 MB for attachments while Gmail allows you to attach and send files that are as large as 25 MB. Though it is not a striking difference, Gmail can be said to have the upper hand in this comparison.
Winner: Gmail
Privacy
When using an email service, being bombarded with unsolicited emails may be the last thing on your list. Hence, it makes sense to evaluate the effectiveness of an email service provider at filtering spam before you can trust them. From our experience, we found that Gmail throws far more spam at you than Microsoft Outlook. Look at the images below.
Nice and clean. I occasionally get a few spam emails, but that's it..
I do NOT remember signing up for ANY of these.
I do agree that Google was considerate enough to create a separate email tab for me where it sends me in a Promotional tab. Spam presented on a silver platter is still spam. Undoubtedly, Microsoft Outlook does a much better job of handling spam and respecting your privacy.
Winner: Microsoft Outlook
Productivity and Collaboration
Today, we use email services to not just communicate but collaborate as well. Gmail and Outlook both offer almost similar productivity suites. Gmail offers online, cloud-based applications such as Google Docs, Google Slides, Google Sheets, and more. If you are a Gmail user, you will have no problems using those apps directly with your email service as they integrate seamlessly. Microsoft does not disappoint either because every Outlook email user can access Word Online, PowerPoint Online, and Excel Online all of which seamlessly integrates with OneDrive and Outlook. Both Gmail and Outlook may seem evenly matched in this case, but that is not true. When it comes to the ease of use, Microsoft Office online beats Google Suite any day. After all, we grew up using Microsoft Office applications, so it is a given that many of us would prefer the same user interface that we are used to seeing for decades.
Winner: Microsoft Outlook
Email Organization
Given the enormous number of emails that most of us receive every week, it is imperative that we choose an email service that sorts and classifies mails in a manner that makes our lives easier. Microsoft Outlook has a straightforward approach to email organization – it classifies all incoming emails (that is not directly marked as 'Junk') into two categories including 'Focused' and 'Other'.
The differentiation here is clear. If the incoming email is deemed to be important by Microsoft's email monitoring rules, it ends up in your 'Focused' folder otherwise, it ends up in your 'Other' folder. As for Gmail, it offers customizable tabs for classification. However, one tab ('Promotions') is solely for sending you unsolicited emails, so let's not count that. The other two are 'Primary' and 'Social' where the 'Social' tab is only helpful if you have linked your account to media sites like Facebook, Twitter, Instagram, Quora and more. Every email that is NOT a social media notification or an unsolicited email ends up in your 'Primary' folder whether it may be urgent or not. This makes sorting between high-priority and low-priority emails a lot harder since the same folder stores all of them.
When it comes to tabs and classification, more does not always mean better. Microsoft Outlook may offer you fewer tabs, but it doesn't simply create a new folder to bombard you with spam. Moreover, if you are not an avid user of social media networks, Gmail's 'Social' tab won't add much value to your overall experience either.
Winner: Microsoft Outlook
Gmail vs Outlook: At a Glance
Let us summarize the roundup between Gmail and Outlook and see which one comes at the top. Not surprisingly, Microsoft Outlook beats Gmail comprehensively.
Features
Microsoft Outlook
Gmail
Winner
Storage
15 GB (Email Storage)
+ 5 GB (OneDrive)
15 GB (Email Storage & Drive Combined)
Microsoft Outlook
Attachment Size
Up to 20 MB
Up to 25 MB
Gmail
Privacy
Negligible Spam
Frequent Unsolicited Emails
Microsoft Outlook
Productivity & Collaboration
Microsoft (Word, PowerPoint, Excel, Calendar, Bing, Flow, MSN, OneDrive, OneNote, People, Skype, Sway, and Tasks)
Google (Docs, Slides, Sheets, Forms, Drawings, Maps, Sites, Jamboard, Drive, Photos, Hangouts, Keep, and Duo)
Microsoft Outlook (Due to Microsoft Office's Ease of Use and User Familiarity)
Email Organization
Two Tabs – 'Focused' and 'Other'
Plenty of Tabs – 'Primary', 'Social', 'Promotions'
Microsoft Outlook
Overall Winner
Microsoft Outlook
We hope this article resolved your confusion regarding what is better between Microsoft Outlook and Gmail. We at Apps4Rent have years of experience in offering Office 365 migration and Gmail migration services. If you are currently a Gmail user and would like to migrate to Microsoft Outlook, get in touch with our experts today.
If you want to have a word with our migration experts, feel free to contacts us right away!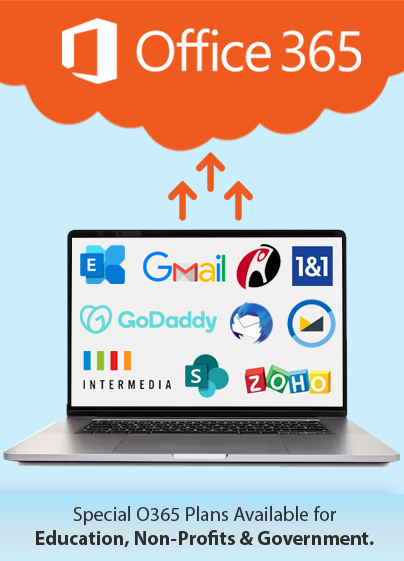 Get FREE migration from
Gmail to Office 365