Commvault is a data protection and data management software company that develops enterprise solutions for data backup, recovery, retention, and compliance, apart from offering cloud products. Many businesses use Commvault for archiving emails in their on-premises Exchange Servers as well as other mailboxes. However, at a time when enterprises are upgrading to Office 365/ Microsoft 365 plans that have strong security features and built-in archiving capabilities, there is a rise in demand for transferring archived mailboxes and journals to Office 365. In this article, we will explore how to migrate from Commvault to Office 365/ Microsoft 365.
How to Migrate from Archived Commvault Emails to Office 365/ Microsoft 365?
The process of migrating archived Commvault emails to Exchange Online would depend on the version you are using. Migrating emails from older versions can often be more complex. Here are the steps involved in Commvault to Office 365 migration.
If there are several archived Commvault mailboxes, sort users into critical, important, and general categories. This will help in determining the extent to which email stubs will have to be hydrated.
When the mailboxes have been rehydrated, move them to an intermediate location with Outlook, such as a virtual machine with sufficient space.
Use PowerShell to export the mailboxes. Add timestamps to mails older than 12 months so that it would be easy to delete them should a need arise.
Recover the stub for each mailbox that has to be migrated and convert them into PST files.
Import the PST files into the Office 365 tenant and initiate the migration.
What Are the Drawbacks of Manual Commvault to Office 365/ Microsoft 365 Migration?
There are several drawbacks of manually transferring individual archive mailboxes from Commvault to Office 365/ Microsoft 365.
If you have several terabytes of data in archive mailboxes, converting the archive emails into PST files involves splitting the mailboxes, which can be laborious. Additionally, the Exchange servers might not be able to import large volumes of data transfer, and there could be throttling.
There are likely to be intermediate steps, which in turn could result in the loss of chain of custody, loss of data integrity, and add expenses for interim storage.
The migration process can become rigid and complex with limited or no scope for performing detailed analysis of archives, managing shortcuts, filtering data, reassigning archives, or address re-writing.
Users might have to deal with data archived in Commvault that they might have deleted previously. Not only does this increase storage requirement, but it can also result in support issues after migration leading to an overall decline in user experience.
It is not easy to create consolidated reports for detailing the items that have been discovered and migrated, and any errors that might have occurred during the process of migrating from Commvault to Office 365/ Microsoft 365 mailboxes.
Apps4Rent Can Help with Commvault to Office 365/ Microsoft 365 Migration
Migrating stubbed emails from Commvault to Office 365/ Microsoft 365 can be especially challenging for emails archived in older solutions. Third-party tools can be used for migrating archived mailboxes and journals out of Commvault swiftly and securely while maintaining the chain-of-custody and managing shortcuts effectively. However, if you are using Commvault with legacy on-premises Exchange Servers, restoring compliance emails to PSTs can be might pose additional problems, and virtualizing the server might be the final resort. As a Tier 1 Microsoft CSP, Apps4Rent will audit your environment, identify the right solutions, and perform the migration from Commvault to Office 365 in the most cost-effective manner. Contact our Microsoft Office 365 migration specialists available 24/7 via phone, chat, and email for assistance today.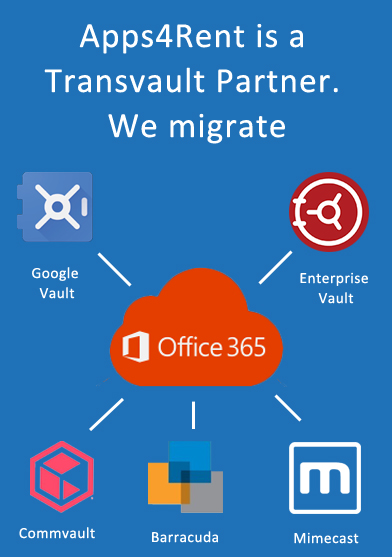 Get RISK-FREE migration to
Office 365