Domain.com is a domain registrar and web hosting company that provides a wide range of services, products, and technologies including, domain names, web hosting, email, SSL certificates, web design, and online marketing services to individuals, entrepreneurs, and small- and medium-sized business around the globe. The company, which is now a subsidiary of Endurance International Group, has grown to be one of the largest web hosting and domain name providers and is used by more than 1.2 million websites around the globe. Many of these websites also use email services, including G Suite and Microsoft 365 plans, that are customized by Domain.com. In this article, we will show you how to migrate from Domain.com to Office 365/ Microsoft 365.
Why Migrate Email from Domain.com to Office 365?
Domain.com provides customized email services and productivity solutions from Microsoft (Microsoft 365) and Google (G Suite) that are best suited for individuals and small businesses. They might not serve the business demands when the organization grows or has additional requirements. Here are some reasons for migrating from Domain.com Microsoft 365 plan to direct Microsoft 365/ Office 365 plans.
While all plans from Microsoft offer a minimum of 50 GB mailbox space, Domain.com offers only 15 GB in the basic plan. Although the basic plan is cheaper by $1 per month compared to the corresponding Microsoft plan, the mailbox space is disproportionately lesser.
Microsoft offers free/ heavily discounted plans for non-profits and educational institutions. Such organizations can save significantly by switching to corresponding Office 365/ Microsoft 365 plans offered by Microsoft. Certain important apps and services, such as Intune, Defender, Azure Information Protection, Conditional Access, and Windows Virtual Desktop, are not available even in the Business Pro plan.
Customizations by Domain.com could limit the flexibility and usability of Microsoft 365/ Office 365.
What Are the Steps to Migrate Email from Domain.com to Office 365?
The steps to migrate email from Domain.com to Office 365 could vary based on the current service. If you are using Domain.com Microsoft 365, you will have to tenant to tenant Office 365 migration. Here is the procedure for Domain.com Office 365 tenant-to-tenant migration.
Log in to the target Microsoft 365 admin portal with the Global Administrator credentials, provision the new Office 365/ Microsoft 365 licenses, and assign them to the end-users.
Create rooms, resources, distribution groups, and user objects in the new tenant.
Ensure that you have the tenant admin credentials for Domain.com and Enable SSI (Source-Side Impersonation) on it.
Use an appropriate third-party tool or the new cross-tenant mailbox migration feature, which is still in public preview, and create endpoints for migration.
Alternatively, you will have to offboard Domain.com Office 365 data on-premises and then onboard it to the new tenant.
Ensure that you have stopped the inbound mail flow while migrating. Update the MX records to point to the new Office 365 organization.
Confirm that all mails have been migrated. You may have to perform multiple passes to fill in the mailboxes with older email data, contacts, and calendars. Once mails have started flowing to the new mailboxes, you can remove the federation with Domain.com and delete accounts.
Setup SSPR (self-service password reset) on the new tenant and ensure that all users have the latest version of Office 365 and Outlook.
Apps4Rent Can Help with Domain.com to Office 365 Migration
The Domain.com to Office 365/ Microsoft 365 migration can become quite challenging especially for Business Plus and Business Pro Users. This is because, it could require SharePoint and Teams tenant to tenant migration, in addition to Exchange Online content.
As a Tier 1 Microsoft CSP, Apps4Rent can help organizations migrate to direct Microsoft 365/ Office 365 plans at no additional cost from Domain.com Microsoft 365 and G Suite plans. Contact our Microsoft certified experts available 24/7/365 via phone, chat, and email for Office 365 migration and set up.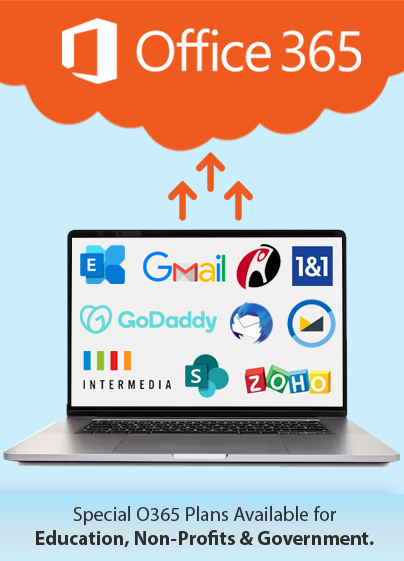 Get FREE migration from Domain.com to Office 365