Infosaic is a US-based company, which provides shared hosting services along with a range of other hosting services. Its shared hosting comes with premium email services offering many options and features. This includes access to mail, contacts, calendars, and many other data items from any POP3/IMAP client, mobile device, or desktop web browser. Although it provides a range of basic features, it may not be well-equipped to meet the complex needs of modern businesses. In today's fast-paced and ever-evolving business environment, companies require sophisticated cloud-based suites that can streamline their workflows, improve collaboration, and enhance their overall productivity. In this article, we will explain how to migrate from Infosaic to Office 365.
What Are the Advantages of Migrating from Infosaic to Office 365?
There are numerous benefits of migrating from Infosaic to Office 365, including:
Microsoft 365/ Office 365 comes with Office applications such as Word, Excel, PowerPoint, Outlook, and Access. In addition, it also offers numerous collaborative tools including Yammer, Planner, Teams, and SharePoint, allowing users to work together seamlessly and efficiently.
Microsoft 365/ Office 365 complies with a wide range of industry standards and regulations, enabling businesses to securely store and manage their sensitive data while adhering to legal and regulatory requirements.
Microsoft 365/ Office 365 includes Power Apps, a powerful low-code platform that allows businesses to create custom applications with a simple drag-and-drop interface, without the need for extensive coding knowledge.
Microsoft 365/ Office 365 offers 50GB of mail storage on all its plans, as well as OneDrive, which comes with 1TB of cloud storage and can be increased further depending on the licensing plan.
Microsoft 365/ Office 365 includes Microsoft Planner, which provides a centralized platform for task management, allowing team members to create and assign tasks, set due dates, and track progress.
With Microsoft 365/ Office 365, users can access their files and applications from any device, including smartphones and tablets, ensuring that they can work remotely and stay productive.
Steps for Migrating Emails from Infosaic to Office 365/ Microsoft 365
Here are steps to migrate emails from Infosaic to Office 365 using the IMAP method.
Obtain Microsoft 365/ Office 365 licenses for all the users who need to be migrated from Infosaic to Office 365.
Open Outlook and configure the IMAP settings by adding the Infosaic server details.
Generate a list of the usernames and passwords for the Infosaic emails in a CSV file, then enter the data in the Microsoft 365 admin center.
Associate each user with their new Office 365 mailbox in the Microsoft 365 admin center.
Establish a migration endpoint between the Infosaic hosting server and the Exchange Online server.
Create batches of mailboxes to be migrated and initiate the migration process.
Redirect emails sent to Infosaic mailboxes to the new Office 365 mailboxes by updating the DNS records.
Once the emails are redirected, stop the email synchronization between Infosaic and Office 365.
Finally, delete the migration batches from the Exchange admin center.
Apps4Rent Can Help with Infosaic to Office 365 Migration
Migrating from Infosaic to Office 365 can enable businesses to operate more efficiently, collaborate seamlessly, improve data security, and offer a more flexible and modern workplace for employees.
As a Microsoft Solutions Partner, Apps4Rent has a proven track record of more than 10,000 successful migrations from other email hosting providers to Office 365 and can also help you in migrating from Infosaic to Office 365 hassle-free. Reach out to our Office 365 email migration experts, who are available 24/7 via phone, chat, and email for assistance.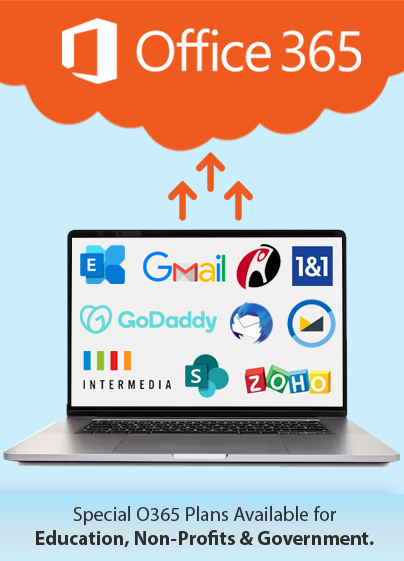 Get FREE migration from
Infosaic to Office 365