Namecheap is one of the leading domain hosting service providers that also offer email hosting. They even offer premium email hosting services that cater to personal and business requirements. The Private Email plans offered by Namecheap include several features and office tools to handle email, contacts, calendar, and overall business operations better. This includes unified mailboxes, full groupware support for sharing emails, documents and spreadsheets, appointments, contacts, tasks, and lists, 2-factor authentication, and anti-spam protection, among others. While these plans are both feature-rich and affordable, it is common for businesses to opt for Office 365/ Microsoft for their email exchange at a later stage. In this article, let us explore how to migrate from Namecheap to Office 365/ Microsoft 365.
How to Replace Namecheap With Office 365?
If you are using the email services provided by Namecheap, there are two ways in which you can switch to Office 365/ Microsoft 365 services.
Namecheap to Office 365 Migration with Namecheap As DNS Hosting Provider
Some businesses prefer to migrate only their email services to Office 365/ Microsoft 365 while retaining Namecheap as their domain registrar. Here is how you can set up your domain to work with Microsoft in such an Office 365 migration.
Login to your Namecheap account and navigate to the domains page.
If you have multiple domains, select the one that has to be edited and click on Manage.
Click on Advanced DNS>ADD NEW RECORD under the HOST RECORDS section.
Update the TXT Record with Destination or Points to Address.
Once the records have been updated, login to Microsoft 365 admin center, and navigate to the Domains page from Settings.
Verify the domain from the Setup page that can be accessed from the Domains page where once you have selected it.
Switch back to the Namecheap domains page and scroll down to the MAIL SETTINGS section for the same domain.
Click on ADD NEW RECORD after selecting Custom MX in the Email Forwarding drop-down.
Add the <domain-key> available in the Microsoft account and update the TTL value.
Similarly, update the CNAME records, SPF TXT records, and SRV records for the domain in Namecheap.
With these steps, you can use your new Office 365/ Microsoft 365 mailboxes with Namecheap.
Namecheap to Office 365 Migration with Microsoft Managed DNS Records
If you would prefer Microsoft to manage the DNS records for the email server instead of Namecheap, you will have to change the nameserver records to point to Microsoft's primary and secondary name servers. Here are the steps to follow for migrating email services from Namecheap to Office 365.
As with the previous procedure, you will have to verify the domain with Microsoft using the TXT record.
Select the domain from the Domain list page in Namecheap.
Scroll down to the NAMESERVERS section for the domain and select Custom DNS.
Delete the existing nameservers, and add the ones provided by Microsoft.
Unlike the previous method, you do not have to manually update the CNAME records, SPF TXT records, and SRV records if you want to point to the Microsoft name servers. With this method, emails sent to your domain will automatically be redirected to Microsoft servers.
How to Migrate Content from Namecheap to Office 365?
While new emails will be redirected to Office 365 mailboxes, the migration is incomplete without moving existing data to Office 365. There are different ways in which you can import Namecheap emails into Office 365.
If you are using the built-in Private Email webmail, you can import the emails into your local system in a zip file using features of the Open-Xchange platform. The disadvantage of this method is that only emails that are visible on the screen will be exported. Additionally, the emails are stored in .eml format and will have to be converted to .pst files before being exported to Office 365 mailboxes. Lastly, calendar items, tasks, and contacts cannot be exported using this method.
The second option is to import content using Outlook. The Import/Export option allows users to save the file in the .pst format making it easier to import into Office 365 mailboxes. However, if there are multiple mailboxes, this process has to be repeated for each user.
The last option is to perform the Neamcheap to Office 365 migration using a third-party tool.
Apps4Rent Can Help with Namecheap to Office 365 Migration
Regardless of the method that you use for Namecheap to Office 365/ Microsoft 365 migration, configuring accounts properly is challenging for most businesses, especially if attachments, metadata, contacts, and other details have to be preserved. As a Tier 1 Microsoft CSP, Apps4Rent can help businesses migrate from Namecheap to Office 365 and provide 24/7 phone, chat, and email support after migration. Contact us today for exciting deals on Office 365 migration.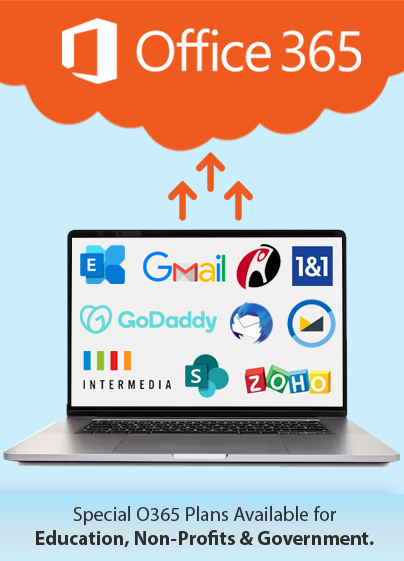 Get FREE migration from
Namecheap to Office 365