HostMonster is one of the oldest web hosting companies that has been hosting business and personal websites since 1996. It provides advanced security options, high uptime, and even instant provisioning with VPS hosting plans. With features such as unmetered bandwidth, free SSL, and 50 GB website space even with the basic plan, many businesses and individuals use HostMonster for hosting their website along with Horde or Roundcube webmail that is built into their account. However, many users realize that these solutions do not cater to their needs at a later stage. In this article, let us explore how to migrate from HostMonster to Office 365.
How to Migrate HostMonster Content from Horde to Office 365?
Horde is a collection of online applications that include webmail, calendar, notes, and tasks. However, there are fewer features as compared to the Office 365/ Microsoft 365 productivity suite. Additionally, these features work only within Horde. Here is how you can move content from HostMonster to Office 365 if you are using Horde.
Login to the Horde webmail account and select the folders that have to be exported.
If you see only the Inbox, select Show All Mailboxes from Folder Actions.
Once all the folders are visible, right-click the ones from which content has to be exported and click on Export.
Select the Download into MBOX File and save the files.
Repeat the process for all folders.
Similarly, use the Import/ Export option in the Address Book, and export the address book data in CSV format.
To export calendar items, click on the edit button next to the calendar, and export it as a .ics file.
While the CSV file for the addresses and the .ics file for the calendar can be directly imported into Outlook, you will have to convert the MBOX files into PST files before importing into Office 365 mailboxes.
How to Migrate HostMonster Content from Roundcube to Office 365?
Many HostMonster subscribers use Roundcube as their default webmail client. It offers all the features of an email application and can be accessed from browsers. Here is how you can move content from HostMonster to Office 365 if you are using Roundcube.
Log in to your Roundcube webmail account.
Click on the email that has to be exported.
Click on the More option and select Download (.eml) from the drop-down.
Similarly, you can import calendar items as .ics files.
The process of manually exporting data from a Roundcube webmail account associated with HostMonster to Office 365/ Microsoft 365 is tedious. Each email and contact will have to be exported individually.
Why Is HostMonster to Office 365 Migration Challenging?
HostMonster supports IMAP mailboxes. In such mailboxes, not all data is stored on the server. Instead, it is stored locally on Outlook. Because data is not centrally available, there could be discrepancies during the process of migration. While Microsoft offers a built-in solution to perform IMAP migrations, it will migrate only the last 14 days' emails that are available on Outlook. Consequently, users will have to convert their emails that are available in a format provided by their service provider into PST files that can be imported into Office 365. This could be a challenging task especially because it could involve the use of third-party tools.
Apps4Rent Can Help with HostMonster to Office 365 Migration
The complexity of the HostMonster to Office 365 migration depends on the webmail service that is used with the hosting plan to a large extent. In most cases, users will have to use third-party tools to convert MBOX and EML files to PST, and move folders, contacts, and calendar items. The migration from HostMonster webmail to Office 365/ Microsoft 365 is complete only after the DNS records are updated, and Office 365 is set up and configured as per the organization's customization requirements. As a Tier 1 Microsoft CSP, Apps4Rent migration experts can help transition to Office 365/ Microsoft 365 by exporting email items from HostMonster accounts to Office 365. This is backed by 24/7 phone, chat, and email assistance. Contact us today for the best prices on plans for Office 365 and Microsoft 365 migration support.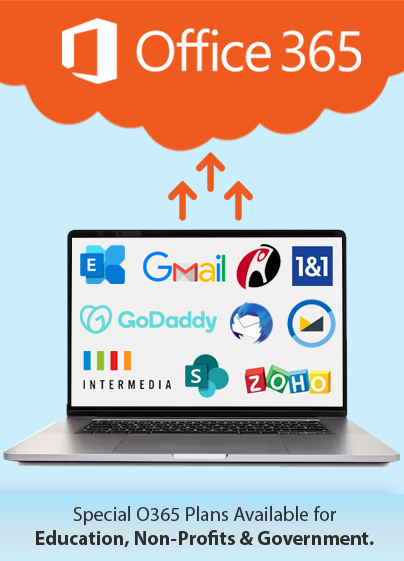 Get FREE migration from
HostMonster to Office 365