Non-profits and charities have increasingly started relying on cloud solutions to make the world a better place. The necessity to coordinate with their employees, partners, and volunteers is critical for running their operations, and technologies such as email, shared calendars, and other collaboration applications enable such organizations to fulfill their commitments.
Microsoft Office 365 is one of the most widely used productivity suites used by organizations, including non-profits. While most businesses use commercial plans, Microsoft offers customized productivity solutions for non-profits. In this article, let us explore how to move to Office 365 Nonprofit plan from Microsoft 365/ Office 365 commercial plans.
Why Switch to Office 365 Nonprofit Plans?
Apart from the fact that Office 365 Nonprofit plans are available as donations (read free) or at heavily discounted prices (less than one-fourth of the cost of the commercial plans), here are some of the advantages of switching to Office 365 Nonprofit plans.
Nonprofit organizations can take advantage of all the applications and services in Office 365/ Microsoft 365 plans without having to compromise on the feature set, unlike the customized plans offered by value-added resellers (VAR).
The solution is customized for nonprofits, with Microsoft offering training and learning paths for employees to facilitate adoption.
Volunteers and employees in non-profit organizations can use Office files that can be shared with external partners, as it is the industry standard.
For certain plans such as Microsoft 365 E3/E5, there are additional benefits, such as Volunteer use benefit, with which nonprofits can receive 10 additional Office 365 F3 seats.
How to Switch to Office 365 Nonprofit Plan?
If you already have a commercial Office 365/ Microsoft 365 plan with a direct tenant, switching to a Microsoft 365/ Office 365 Nonprofit plan is a straightforward process.
Login to the admin center and navigate to Billing>Subscription.
Click on the Switch plans button to view the list of plans that you can upgrade to and select your preferred non-profit plan.
Confirm the plan on the checkout page and initiate the verification.
While the process of upgrading to an Office 365/ Microsoft 365 Nonprofit plan is simple, there are a few caveats that organizations should be mindful of.
The Switch plans button will not be available if users subscribe to multiple Microsoft 365/ Office 365 plans. Additionally, Office 365 Enterprise E5 users will also not be able to see it as they already have all the features.
Apps4Rent Can Help Organizations Switch to Office 365 Nonprofit Plans
In many cases, organizations need assistance in switching from commercial Office 365 plans to non-profit plans. This is particularly true when there are users on different plans, or organizations are using bundled Office 365/ Microsoft 365 plans provided by their web hosting provider or other VAR.
As a Tier 1 Microsoft CSP, Apps4Rent is committed to empowering nonprofits with technology capabilities to solve problems. We can help nonprofit organizations migrate free of cost from providers such as GoDaddy, Rackspace, and AppRiver apart from licensing, assisting with validation and implementation to help them save as much as 75% in subscription costs. Contact our cloud consultants, available 24/7 via phone, chat, and email for Office 365/ Microsoft 365 migration assistance.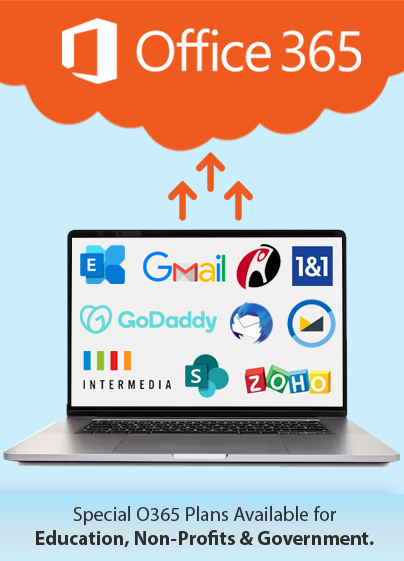 Get FREE migration to
Office 365 Non-Profit