SiteGround is a web hosting service provider offering cutting-edge technologies in the form of tools and services to help users operate their sites with speed, safety, and ease. SiteGround offers web hosting, WordPress hosting, WooCommerce hosting, and cloud hosting services catering to a broad array of users across different domains. As a part of the comprehensive suite of solutions that SiteGround offers, users can avail of the bundled email services that are a part of their subscription. This email solution adds value to the service that websites hosted on SiteGround can provide to end-users. However, if you are looking for other options, this writeup can be insightful for SiteGround to Office 365 migration.
Why Migrate SiteGround to Office 365?
SiteGround provides personalized email accounts whose capabilities and features are enhanced with in-house and third-party solutions. The email solution provides essential features like spam protection, secure email protocols, and cPanel based mail management. Interestingly, users can choose between three Webmail clients namely Horde, Roundcube, and SquirrelMail.
Despite the flexibility of SiteGround, an Office 365 subscription is a better option offering a lot more in terms of capabilities than the bundled applications. OneDrive for Business, which is a part of the subscription offers 1 TB of space per account. Besides, startups and enterprises can use collaboration applications like MS Teams and SharePoint apart from desktop and online versions of Excel, Word, and PowerPoint to improve productivity. Since it is offered by Microsoft, the safety and security features of Office 365 are matchless.
Migrating from SiteGround to Office 365 Mailbox
SiteGround supports IMAP migration and has a native migration method to move emails from the bundled email solution to the Office 365 account. This migration can be done using Outlook. Consequently, it is imperative to procure valid Office 365 licenses before proceeding with the migration.
Adding SiteGround Email to Outlook

The preparatory process for the SiteGround Email to Office 365 migration involves adding it to the Outlook installation on the desktop. You will require the DNS information of the current server which can be found through the cPanel on the MX Entry option if you are using the default service, or Advanced MX Editor if you are using a custom web service.

If you are performing a manual Outlook configuration, click on File > Account Settings > Account Settings and add a new email.

Then select Add Account where Manual Setup or additional server types must be selected. Select POP or IMAP on this window and type in the details like email address, server details, password, and so on. You will have added the SiteGround email to Outlook once the verification is complete.

Alternatively, this can be done using the Mail Autoconfig option on the cPanel.

Extracting Emails from SiteGround Email Account

The above process syncs the SiteGround Email with Outlook. Use the Import and Export wizard to export the emails as files that can be saved locally. It would be ideal to save these emails in the PST format. However, if the email service uses a different format it can be converted to PST and then saved locally.

You can delink the SiteGround Email from Outlook from the Account Settings once you have extracted the files.

Moving SiteGround Email to Office 365

Once your Office 365 mail account is operational, you can consolidate the contents of the old SiteGround Email into the new Office 365 account. Use the Import and Export wizard again to import the PST file into the Office 365 mailbox.
Other SiteGround to Office 365 Migration Methods
While the migration from SiteGround email to Exchange Online is the easiest using Outlook, it might not be the optimal solution for the process. The inherent problem with this approach is that it must be done for each account individually. Besides, you will continue to receive emails in the old account. Alternatively, SiteGround email to Office 365 migration can be performed with third-party tools or using the Exchange Admin Center if there are several accounts. Both these methods might require technical knowledge for troubleshooting issues that might creep up during the migration.
As a Microsoft Partner and a Tier 1 CSP for Office 365 and Azure, Apps4Rent uses best practices to minimize friction in migrating to Office 365. For any questions, feel free to click the chat option in the bottom right section of the screen.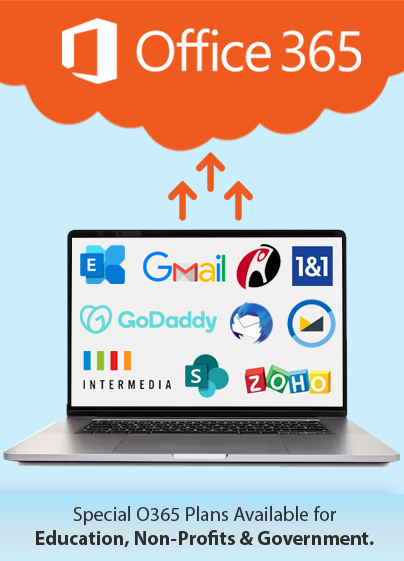 Get FREE migration from
SiteGround to Office 365