ProtonMail is an easy to use email service that is built for users who are paranoid about their security. It uses an end-to-end email encryption system that ensures that only the sender and the receiver can read the messages. It is specifically designed to protect data privacy while securing mailboxes against cyber-attacks. While its privacy and security measures are strong, many users, especially the ones with business and enterprise email accounts, can find the service to be restricting and disappointing. Although the service is evolving, businesses are looking for alternatives. Let us explore the ProtonMail to Office 365 migration process for businesses that are looking for a more robust solution.
Why Switch from ProtonMail to Office 365?
ProtonMail is a relatively new email service provider that was launched as recently as 2014. While it has made rapid strides, it is a practical solution only for small businesses and teams. Below are some of the distinguishing features of Microsoft Exchange that make it a better option than ProtonMail are.
Interactive calendar that can be shared with other users.
Strong search and archiving features.
Nested folder system.
Ability to forward mails that is missing on ProtonMail.
Better spam filtration.
Apart from these inherent advantages of Exchange vis-a-vis ProtonMail, an Office 365 subscription includes several other collaboration features that are not available even with the paid versions of ProtonMail.
How to Migrate from ProtoMail to Office 365?
There is no direct method to transition from ProtonMail to Office 365. The migration has to be done with three steps which we will expand in the following sections.
Update and upload contacts
If you are using ProtonMail addresses and will be updating them once you switch to Office 365, ensure that you inform contacts with the upcoming change with the new Office 365 address in CC. Export the contact details from ProtonMail to Office 365 into a CSV file that can then be imported into Outlook.
Import emails into Office 365
Emails have to be imported to the Microsoft server while migrating from ProtonMail to Office 365.
Use ProtonMail Bridge if you are using a paid plan. This can be used for moving individual mailboxes by moving the contents manually to Outlook.
Alternatively, you can use the ProtonMail Import-Export application that is available in the beta version with Plus, Professional, Visionary, and Lifetime accounts. The tool exports ProtonMail emails in MBOX and EML formats. Use the EML format for exporting ProtonMails in bulk and import them into Outlook.
Update server records
If you are already using a custom domain with ProtonMail, MX records will have to be updated to point it to the Office 365 mail servers. This process involving the DNS update will have to be done so that emails do not bounce to the senders. The domain can be deleted from ProtonMail once the records have been updated in Office 365.
Is ProtonMail to Office 365 Migration Feasible?
The ProtonMail to Office 365 migration is a logical move considering the fact that the privacy that the former offers comes at the cost of critical features that most businesses need to function effectively. While ProtonMail is a reasonably good offering for consumer accounts, its capabilities are far from satisfactory for enterprise accounts. If you have a business with ProtonMail and looking for a more conventional but reliable solution, Office 365 might be your answer.
Apps4Rent is a Microsoft Gold Partner and a Tier 1 CSP for Office 365 which helps businesses migrate to Office 365 from other providers including ProtonMail. Our experts provide technical assistance round-the-clock via phone, chat, and email. Being in the Cloud business from 2003, we have migrated over tens of thousands of mailboxes of all kinds. Contact us for more information.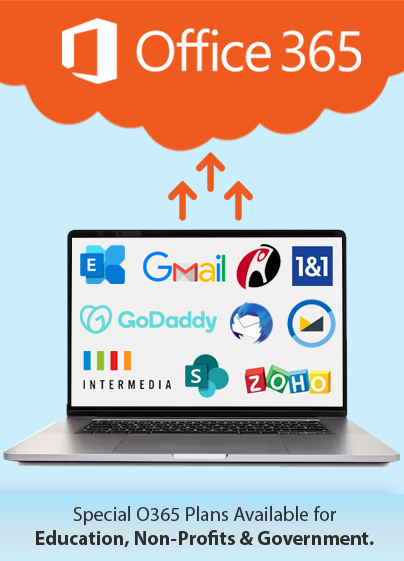 Get FREE migration from
ProtonMail to Office 365