Rebel is a US-based hosting provider, which offers reliable email hosting services with various additional features. Its email service comes with Address Book, Calendar, Tasks, and advanced anti-spam and anti-virus protection. It also allows users to set passwords as well as read, write, and delete permissions to protect the documents. On some plans, it offers a productivity suite that includes Docs, Sheets, Presentations, and cloud storage. Users can also access their files from mobile devices using Cloud Storage App. It also offers Google Workspace plans with its email services. Despite offering these many features, Rebel lacks several collaboration tools that are required for modern business needs. In this article, we will discuss how to migrate from Rebel to Office 365.
What Are the Advantages of Migrating Rebel to Office 365?
These are the following advantages of migrating from Rebel to Office 365.
Microsoft 365/ Office 365 productivity suite offers Office applications such as Word, Excel, PowerPoint, Outlook, and Access. In addition, it also offers additional tools and services such as Teams, OneDrive, SharePoint, Yammer, Planner, and many more that integrate with each other to boost business productivity.
Microsoft 365/ Office 365 includes industry-leading security features such as Data Loss Prevention (DLP), Advanced Threat Analysis (ATA), Ransomware protection, anti-phishing, SSL protection, end-to-end encryption, Automated investigation and response (AIR), and Microsoft Defender to safeguard user accounts from any kind of cybersecurity threats.
While Rebel offers 30 GB of email and cloud storage, Microsoft 365/ Office 365 provides a minimum of 50 GB of email storage and offers OneDrive, which provides 1 TB of cloud storage.
Microsoft 365/ Office 365 allows users to add an invisible digital signature to the documents to protect the authenticity of the document's contents.
Steps for Migrating Emails from Rebel to Office 365/ Microsoft 365
Follow the instructions given to migrate emails from Rebel to Office 365.
Assign Microsoft 365/ Office 365 licenses to users to be migrated to Office 365.
Launch the Outlook application.
Navigate to File > Account Settings > New> Email Account > Manual setup or additional server types > IMAP.
Enter your credentials, including name, Rebel email address, and password.
Enter the incoming mail server and outgoing mail server details for Rebel.
Enter the port details for the incoming and outgoing mail.
Once you have finished the setup, you will start receiving Rebel emails in Outlook.
Now, change the DNS records to route emails from Rebel mailboxes to Microsoft 365/ Office 365.
Stop the synchronization between the mailboxes once the emails are routed directly to Office 365/ Microsoft 365 and delete the migration batches from the Exchange admin center.
Apps4Rent Can Help with Rebel to Office 365 Migration
IMAP migration can be used to migrate emails from Rebel to Office 365. However, to migrate additional files such as Contacts, Tasks, Address books, and other documents, specific migration tools are required.
As a Microsoft Solutions Partner, Apps4Rent uses tested tools and proven methodologies to migrate data from various email providers such as Rebel to Office 365. Contact our Microsoft-certified Office 365 email migration experts, available round-the-clock via phone, email, and chat for assistance.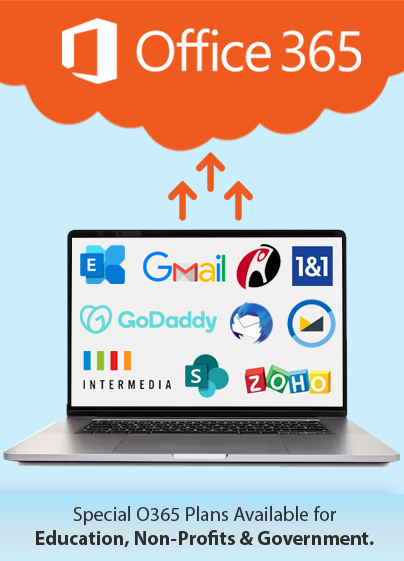 Get FREE migration from
Rebel to Office 365