SOGo is a widely used collaborative software (groupware) server that is built with a focus on simplicity and scalability. As a free and open-source solution with a small hardware footprint, the server is used by businesses and organizations that need a low-cost solution for handling thousands of users. Even though SOGo is simple and professional, it has certain limitations when compared to a productivity suite such as Office 365. While smaller organizations that have dedicated technical teams can self-host the solution, most enterprises are opting for cloud-native solutions. In this article, let us explore how to migrate from SOGo to Office 365.
What Are the Advantages of Migrating from SOGo to Office 365?
Most users opt for self-hosted SOGo groupware servers primarily because it is an economical solution. However, these benefits are often offset by the capabilities of Office 365/ Microsoft 365. Here are some of the advantages of migrating from SOGo to Office 365.
As opposed to the basic search capabilities in SOGo, Office 365 offers powerful search features that can help discover content quickly in chats, emails, and files.
Features such as autocomplete, and other AI-assisted and machine learning capabilities are built into the Office 365 suite.
Microsoft provides enterprise-grade security that open-source groupware solutions such as SOGo do not.
There are no hassles of relying on nightly builds, updating the server, or installing security patches, as Office 365 is a fully managed solution.
Education institutions and non-profits that use SOGo for cost constraints can take advantage of the full-featured Office 365/ Microsoft 365 suite for free or heavily discounted rates.
How To Perform SOGo to Office 365 Migration?
Because SOGo supports the Microsoft ActiveSync protocol, items such as contacts, emails, events, and tasks can be synchronized easily for migrating to Office 365 from an IMAP server such as Dovecot. Here are the steps to migrate email and other content from SOGo to Office 365 manually.
Install Outlook on the computer used for accessing SOGo emails.
Setup an IMAP account in Outlook and provide the details for the incoming and outgoing mail server. Also, provide the correct port information and encryption method.
Once the user enters their credentials, the mailbox will be visible in the navigation bar.
Use a plugin such as the Outlook CalDAV Synchronizer to synchronize server-side SOGo address book, calendar, and tasks with Outlook.
Export address book, calendar, tasks, and emails as PST files, and store them locally.
After acquiring the appropriate Office 365/ Microsoft 365 licenses, enter the Exchange Online server details in Outlook, and import the files saved locally earlier, and start synchronizing the data.
Apps4Rent Can Help with SOGo to Office 365 Migration
While this method for SOGo to Office 365 migration is useful for an organization with a few mailboxes that do not have much data and individuals, it is not suitable for enterprises with several SOGo mailboxes. These IMAP migrations typically have to be done using the Exchange admin center and may involve the use of tools if there is content to be migrated to SharePoint, OneDrive for Business, and Teams.
As a Tier 1 Microsoft CSP, Apps4Rent can not only help you migrate to Office 365 from SOGo but can also provide managed services for hosting SOGo servers in our top tier SSAE 16 datacenters or Azure. Contact our migration consultants, available 24/7 via phone, chat, and email for assistance.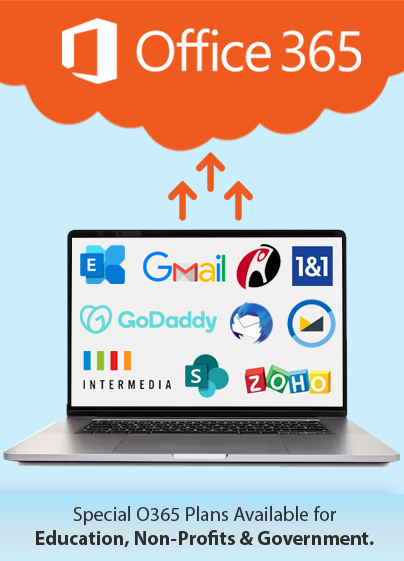 Get FREE migration from SOGo to Office 365