Turbify (formerly Yahoo Small Business Email) is a US-based web hosting company, which provides email services along with various other solutions. Its email service comes with numerous features including spam protection, SSL encryption, free domain, document handling, analytics, calendars, and rich contact displays. It also allows users to access their email through the Yahoo Mail App. Although it provides numerous features, users often choose to switch to other email hosting providers such as Office 365 due to their advanced AI capabilities, better collaboration tools, higher reliability, and greater scalability. In this article, we will discuss how to migrate from Turbify to Office 365.
What Are the Advantages of Migrating from Turbify to Office 365?
There are several advantages of migrating from Turbify to Office 365, including:
Microsoft 365/ Office 365 includes a wide range of applications including Word, Excel, PowerPoint, Outlook, OneDrive, SharePoint, and Teams, which provide users with a complete suite of tools for productivity and collaboration.
With Microsoft 365/ Office 365, users can access their applications and data from anywhere on any device as long as they have an internet connection. This flexibility allows for more efficient and remote work arrangements.
Microsoft 365/ Office 365 provides at least 50GB of email storage across all its plans and also includes OneDrive, a cloud storage service with a capacity of 1TB that can be extended according to the licensing plan.
Microsoft 365/ Office 365 guarantees the comprehensive security of user data by incorporating advanced cybersecurity measures, such as anti-phishing, antispam, antimalware protection, SSL protection, end-to-end encryption, device security, Advanced Threat Analysis (ATA), DDoS protection, Data Loss Prevention (DLP), deep content analysis, policy-based access control, and Microsoft Defender.
Office 365 offers various AI-powered features such as Microsoft Editor, PowerPoint Presenter Coach, MyAnalytics, SharePoint Syntex, Microsoft Stream, and Excel Insights, which enhance productivity, automate workflows, provide insights, and improve accuracy.
Steps to Migrate Emails from Turbify to Office 365
Here are the steps for migrating emails from Turbify to Office 365 using the IMAP method.
Create Microsoft 365/Office 365 accounts for users to be migrated from Turbify and assign them licenses.
Log in to your Outlook account and configure the IMAP settings by adding the Turbify server details.
If there are several Turbify email users, collate their email credentials in an Excel sheet in the CSV format, along with the admin credentials.
Map the users with their new Office 365 mailboxes in the Microsoft 365 admin center.
Create a migration endpoint between the Turbify server and Office 365.
Create batches of mailboxes depending upon the number of users and size of the mailboxes and initiate the migration process.
Route emails being sent to Turbify mailboxes to the new Office 365 mailboxes by changing the DNS records.
Once the emails are routed to Office 365, stop the synchronization, and delete the migration batches from the Exchange admin center.
Apps4Rent Can Help with Turbify to Office 365 Migration
While IMAP migration can be used to transfer email data from one email service provider to another, it also has its limitations. The amount of data that can be migrated is dependent on the bandwidth and network speed and may also lead to data loss if the connection is interrupted.
As a Microsoft Solutions Partner, Apps4Rent can provide Microsoft 365 licenses according to your business requirements, and with our expertise and tools, we can also help you in migrating emails as well as other data from Turbify to Office 365 without any downtime. Reach out to our Office 365 email migration experts, who are available 24/7 via phone, chat, and email for assistance.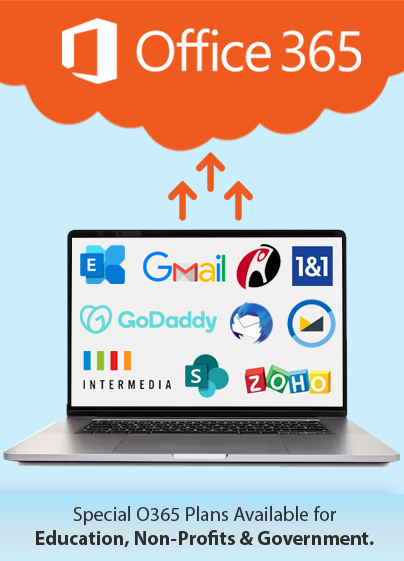 Get FREE migration from
Turbify to Office 365