1&1 Ionos is an internet service provider (ISP) company that provides access to cloud technology for small and medium businesses. It markets web hosting and cloud solutions under the IONOS brand. Among its offerings is a web-mail service that is essentially a managed email solution for accessing emails from anywhere at any time. The webmail service is flexible enough to send and read emails using any web browsing client.
Although the company resells certain Office 365 plans, some users prefer to migrate from 1&1 email to an Office 365 plan of their choice. This gives more flexibility in terms of plans and available services and applications that are bundled with it.
Here's a brief guide on how to perform a 1&1 to Office 365 migration.
Why Migrate From 1&1 to Office 365?
Most businesses host their domains with 1&1 as it offers affordable pricing and decent managed services. However, as businesses scale up their operations, they realize that they require a lot more space to store their files than they had initially anticipated. Besides, Office 365 plans offer a lot more options in comparison to 1&1 Mail Basic and Mail Business plans. Though 1&1 email plans are compatible with Microsoft Outlook as well as other applications including Thunderbird, neither of the plans offers other services or applications for sharing or collaborating with users.
Advantages of Office 365 vs 1&1 Email Plans
An Office 365 subscription gives users more than just an email service. In most cases, the plan is a full-fledged productivity suite replete with applications like Excel, Word, and PowerPoint along with services like OneDrive, Teams, and SharePoint. Some plans even support unlimited users ensuring that there is no limitation on scalability. Advanced plans include additional security and compliance features for better safety and privacy of client data. Although IONOS mail provides standard safety measures like spam protection along with the ability to synchronize data, it might not be sufficient for businesses requiring more complex solutions.
Methods for 1&1 to Office 365 Migration
There are 3 methods of migrating from the IONOS 1&1 email to Office 365. Let us proceed with these methods in the following sections.
Office 365 Migration with IMAP
IMAP migration is the default migration method available for moving mailboxes to Office 365. This can be applied to both IONOS Mail Basic and IONOS Mail Business accounts. Follow the steps below for IMAP migration:
Assuming that you already have an Office 365 subscription, open the Office 365 administrator account.
Click on the Admin icon to navigate to the Microsoft 365 Admin Center.
Select Setup and then Data migration.
As 1&1 is not a very commonly used service, select Other email services.
Enter imap.ionos.com in the IMAP server name and 993 in the Port with SSL Security.
If you are migrating a single account, type in the Email address and Password and hit Save.
Select the account to which you want the data to be imported and click on the Start Migration button.
While this is the most reliable method to move the contents of the 1&1 mailbox to Office 365, users can only move email and no other items like contacts, tasks, and calendars to Office 365.
PST Migration to Office 365
In some cases, IMAP migration might not solve the purpose. While some users might find it to be blocked, others might have too many items to migrate. Yet others need contacts, calendar items, and other information that cannot be moved using the IMAP method. For such users, PST manual migration might be the only option.
Save the contents in the 1&1 mailbox in PST format.
Set up Office 365 for each user.
Change the DNS records of the server in Domains–>Setup.
Install Outlook on user devices.
Once the installation is complete, click on 'set up' and follow the steps as per the instructions.
Import the contents saved as PST files into the Office 365 accounts.
Migrating From 1&1 Email to Office 365 Using Tools
Sometimes users have to migrate hundreds of accounts to Office 365 simultaneously. This is possible using special tools that can handle large volumes of data. The capabilities of the tools vary significantly but the steps remain more or less the same.
Download the backup tool.
Select the source and destination email services which in this case will be 1&1 email and Office 365 respectively.
Enter the credentials.
Start the migration process.
This method might be the simplest but might be prone to errors if not implemented correctly.
1&1 Migration to Office 365 – Apps4Rent Makes It Easy
1&1 to Office 365 migration has several advantages. It ensures that users get the maximum value for their money with a full business productivity suite rather than a simple email solution. However, migrations can be complex. Consulting a migration expert is always preferred as they guide you completely and reduces your margin of errors. If you are looking to migrate your 1&1 Ionos emails to Office 365, a certified vendor such as Apps4Rent always comes in handy.
Apps4Rent is a trusted Microsoft Gold Partner and a Tier 1 CSP for Office 365 and Azure. It has performed tens of thousands of Office 365 migrations from different platforms and ISPs for over a decade.
If you have any questions related to email migrations, feel free to contact our Office 365 migration experts. Apps4Rent's technical experts provide 24/7 assistance via phone, chat, and email. Contact now!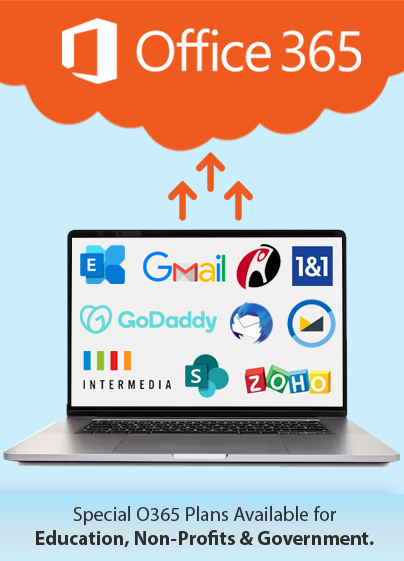 Get FREE migration from
1&1 to Office 365