LogicBoxes is one of the leading web hosting companies which provides email hosting services along with multiple other business solutions. It provides a relatively simple user interface for its webmail. It offers a sidebar that displays upcoming events on the calendar as well as provides live news, updates, and RSS feeds directly into the inbox. Its email client also includes a mobile version, from which users can access their webmail from anywhere. Even after offering these many benefits, the lack of self-explanatory features, scalability, and frequent poor loading times cause users to move to alternative email hosting services. In this article, we will focus on migrating emails to a comprehensive suite like Office 365 from LogicBoxes.
Why Migrate to Office 365 from LogicBoxes?
Migrating to Office 365 has several benefits:
Along with email services, the Microsoft 365/ Office 365 productivity suite offers a wide range of applications such as Word, Excel, and PowerPoint as well as other collaboration tools such as Teams, OneDrive for Business, and SharePoint.
Microsoft 365/ Office 365 is a massively scalable solution that is secured by enterprise-level security and the service level agreement (SLA) of Microsoft.
Businesses have complete control over their Microsoft 365 tenant and can tailor the service to meet their requirements.
Users do not have to worry about technical concerns like server settings, patches, and security updates even though the service is customizable.
Steps for Migrating Email from LogicBoxes to Office 365/ Microsoft 365
Follow the given steps to migrate emails from LogicBoxes to Office 365 using the IMAP method.
Go to Outlook and add the LogicBoxes domain to Microsoft 365/ Office 365 and create user profiles.
Assign Office 365/ Microsoft 365 licenses for each user that must be migrated.
Create a CSV file with a list of user mailboxes that are to be migrated using the mailbox admin credentials and usernames in the format specified by Microsoft.
Create an endpoint in the Exchange admin center and create migration batches using the LogicBoxes server details.
Once the migration task is completed, users can check if they can send and receive emails to confirm that the LogicBoxes to Office 365 migration is successful.
Change the DNS records to route emails from LogicBoxes mailboxes to Office 365/ Microsoft 365.
Once the emails are routed directly to Office 365/ Microsoft 365 mailboxes, stop the synchronization between the mailboxes and delete the migration batches from the Exchange admin center.
Apps4Rent Can Help with LogicBoxes to Office 365 Migration
While LogicBoxes offers multiple features with its email services, they are vastly outnumbered by the applications and tools offered by Office 365.
As a Microsoft Solutions Partner, Apps4Rent can assist businesses in choosing appropriate Microsoft 365/ Office 365 plans and can help in facilitating a seamless migration from other email hosting providers, such as LogicBoxes, to Office 365. Contact our Microsoft 365/ Office 365 email migration experts, available 24/7 via phone, chat, and email for assistance.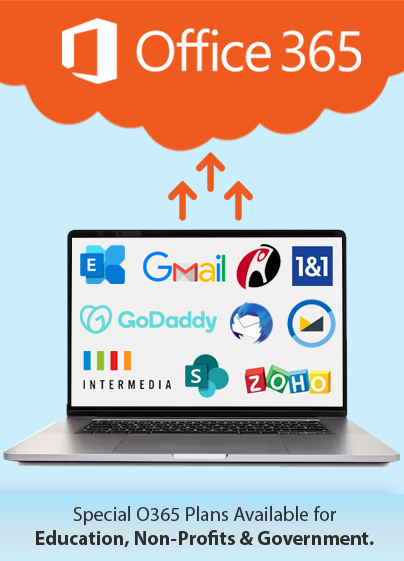 Get FREE migration from LogicBoxes to Office 365