Intermedia is a well-known provider of cloud-based communication and collaboration solutions that cater to businesses of all sizes. Their offerings include email hosting, unified communications, and other cloud-based services to enhance productivity and streamline organizational communication. However, as technology evolves, many businesses consider the benefits of Intermedia to Office 365 migration.
Microsoft 365 is a comprehensive suite of cloud-based productivity tools and services, including popular applications like Microsoft Outlook, Word, Excel, and PowerPoint. This migration offers several advantages, including access to a broader suite of productivity tools, enhanced security features, and familiarity with Microsoft's ecosystem. In this blog, we will explore the benefits of transitioning from Intermedia to Office 365, shedding light on why many organizations opt for this migration.
Why Migrate from Intermedia to Office 365?
Enhance your business's potential with a smooth Intermedia migration to Office 365. Experience the benefits of a comprehensive Office suite, an expanded application ecosystem, and unmatched storage capacity, positioning your organization for future success.
Comprehensive Office Suite: Office 365 offers a complete suite of productivity tools, including Microsoft Excel, Word, PowerPoint, and more, making it highly compatible with various business needs.
Enhanced Storage: Office 365 provides ample storage capacity, surpassing email hosting applications like Intermedia. This ensures that users have sufficient space for their emails and files, reducing the need for frequent storage management.
Expanded Application Ecosystem: Users can enjoy a wide array of Microsoft applications, such as OneDrive, SharePoint, MS Teams, and many others, fostering collaboration and enhancing work efficiency.
Seamless Integration: Office 365 integrates smoothly with various Microsoft services and applications, streamlining workflows and simplifying business processes.
Security and Compliance: Office 365 offers robust security features and compliance tools, helping organizations maintain data integrity and protect sensitive information.
Regular Updates: Office 365 receives frequent updates and improvements, ensuring that users can always access the latest features and security enhancements.
Excellent Support: Microsoft provides extensive support and resources for Office 365, including documentation, training, and customer support, ensuring that users can resolve any issues quickly.
How to Migrate Intermedia to Office 365?
Migrating from Intermedia to Office 365 might sound like a big step; however, we've simplified the process for you into two straightforward steps that your admin can easily handle:
Intermedia Configuration Settings
Set Up Office 365 Accounts for Users
Intermedia Configuring Settings
You'll need to set the stage before you embark on your migration journey. Just like any other migration process, moving from Intermedia to Office 365 requires some initial preparations:
Create a User Account: Create a new account in your Intermedia Admin Control Panel. This account will play a crucial role in the migration process, so ensure it has full access to all items, including those valuable public folders.
Enable Exchange and ActiveSync: In your new user account, enable Exchange and ActiveSync. This will ensure a smooth transition of your data to Office 365.
With these essential settings in place, you're ready to move on to the next phase of your migration.
Set up Office 365 Accounts for Users
Login to Office 365 Exchange Admin Center: First, you need to access your Office 365 Exchange Admin Center. Use your admin credentials to log in.
Create a Migration Endpoint: Now, let's set up the bridge between your Intermedia server and Office 365. To do this, create a migration endpoint. If you plan to go with a staged or cutover migration, use the "Outlook Anywhere" option. However, if IMAP migration better suits your needs, go for it.
Test the Connection: Before you dive into the migration process, it's always a good idea to ensure everything is working as it should. Use an email address other than the one you're migrating (your newly created Office 365 account) with full privilege access to test the connection between Office 365 and the Intermedia server.
Add Full-Privilege Account Credentials: To create the migration endpoint, you must input the domain username and password for the full-privilege account. This ensures that Office 365 can communicate effectively with your Intermedia server during migration.
Name Your Migration Endpoint: Once the server addresses are auto-populated, it's time to give your migration endpoint a name. This will be the connection point name between Intermedia and Office 365.
Start the Migration Batch: You're almost there with everything set up and your Exchange mailboxes ready. Start the migration batch when you're fully prepared. The migration batch will begin moving your email data from Intermedia to Office 365.
Limitations of Manual Intermedia to Office 365 Migration
Limited Support: The Exchange Admin Center offers a reliable method for migrating email from Intermedia to Office 365. However, it needs to efficiently move other crucial items, such as contacts and calendars.
Complexity: Users often need help migrating items beyond just email, making the process more complex and challenging.
Dependency on Migration Tools: To overcome the limitations of the Exchange Admin Center, users may need to rely on third-party migration tools, incurring additional costs and complexities.
Expertise Required: Successfully migrating more than just mailbox items can be complex, requiring knowledge and experience in migration, which many users may need more.
Outsourcing Necessity: To ensure a smooth transition, outsource the migration task to migration experts, which can be costly and add another layer of complexity to the process.
Apps4Rent Can Help with Intermedia to Office 365 Migration
Intermedia competes well with Office 365, offering strong support and essential security features. However, limited third-party integrations and higher addon package costs prompt some clients to migrate to Office 365.
Apps4Rent is a Microsoft Solutions Partner for Modern Work and a Tier-1 CSP for Office 365, having migrated over millions of mailboxes since 2003. Even if your migration is complicated, get in touch with our experts for a free discussion. Our world-class Support is available 24/7 via phone, chat, and email. Contact us now!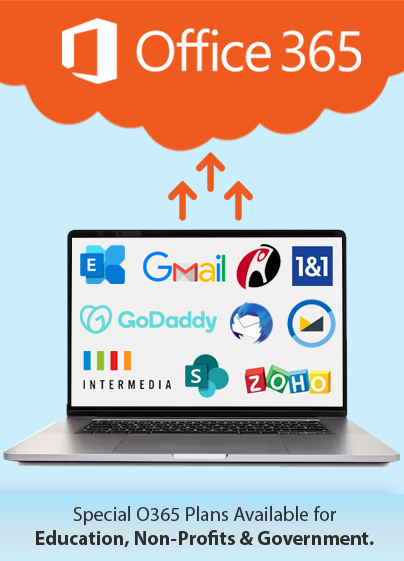 Get FREE migration from
Intermedia to Office 365