OpenSRS is a wholesaler of domain names, SSL certificates, security, and privacy products, apart from hosted email solutions. It develops interfaces for web hosts, internet service providers, and web companies, who can offer white label solutions that are built on OpenSRS solutions.
Among its most widely used products is its Hosted Email solution. It is estimated that there are over 4 million users on the platform. While end-users might be using the webmail solution along with features such as spam and virus protection, they might not realize that they are using OpenSRS services that are customized by resellers. While such customized solutions are affordable and seemingly feature-rich, they are unlikely to match up with the industry-leading Microsoft Office 365 productivity suite. In this article, let us explore how to migrate from OpenSRS to Office 365.
Why Switch from OpenSRS Hosted Email to Microsoft Office 365?
Here are some reasons why resellers and end-customers should switch from customized OpenSRS Webmail to Office 365/ Microsoft 365.
Microsoft provides advanced security features that are significantly better than comparable solutions.
Unlike OpenSRS Webmail which is a standalone email hosting solution, Office 365/ Microsoft 365 is an integrated productivity suite with additional applications and services such as Excel, Word, PowerPoint, and Teams, that work seamlessly with each other to simplify collaboration.
Office 365 is the preferred choice for users who are already in the Microsoft ecosystem. There is virtually no additional learning curve to adopt the familiar applications, including Outlook and Exchange Online.
With 50 GB of mailbox space, Exchange Online offers 10 times as much storage space by default as compared to OpenSRS mailboxes. Most plans include OneDrive for Business that provides 1 TB of storage space at no additional cost.
How to Switch from OpenSRS to Office 365?
OpenSRS Webmail is an IMAP enabled email service. While the exact steps can vary based on the customizations of the provider, the easiest method to switch from OpenSRS email service to Office 365 is using an IMAP migration prescribed by Microsoft. Below is the summary of the steps to perform such a migration.
Create user accounts in Microsoft 365/ Office 365 subscription and add the domain to which the current OpenSRS mailboxes are linked, in the admin center.
Configure your customized OpenSRS email service on Outlook and extract the server details from the POP and IMAP settings.
Generate a list of username(s) and password(s) for the hosted OpenSRS emails in a CSV and feed the data into Microsoft 365 admin center.
Establish a connection by creating endpoints between the existing servers and Office 365, create migration batches, and initiate the IMAP migration.
Change the DNS records to re-route emails to Office 365/ Microsoft 365 mailboxes.
Apps4Rent Can Help Migrate Custom Email Solutions to Office 365
Bundled email solutions may offer several features that are similar to those of their full-fledged counterparts at much lower prices, but they almost always have some caveats. OpenSRS, for example, does not support underscores in Cname records, which is a deviation from accepted DNS standards. This could prevent the validation of nameservers and increase vulnerabilities.
Switching from a bundled or customized email solutions, such as OpenSRS Webmail to Office 365/ Microsoft 365 direct tenant ensures that your data is always protected. You have full administrative control over your account and can customize it based on your requirements.
As a Tier 1 Microsoft CSP, Apps4Rent can help you migrate to Office 365/ Microsoft 365 from bundled email services provided by ISP, hosting service providers, resellers, and other vendors, such as GoDaddy, HostGator, cPanel, and Google. Contact our Microsoft certified migration experts, available 24/7 via phone, chat, and email for assistance.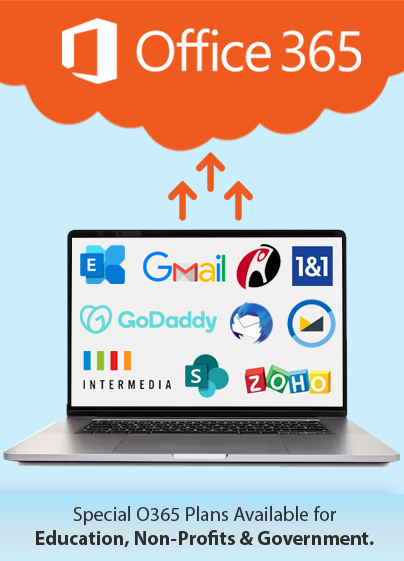 Get FREE migration from
OpenSRS to Office 365