Comcast is a large American telecommunications conglomerate that develops media and technology solutions. It offers video, high-speed internet, and phone services to residential customers and businesses under the Xfinity brand. As an internet service provider (ISP), it offers bundled email solutions.
Many Comcast subscribers use their Comcast.net email accounts for both personal and professional use. However, in hindsight, people realize that switching to an independent cloud email service serves them better than continuing with the bundled solution by their ISP. Office 365 offers a complete messaging and collaboration platform. Businesses have a great payoff in productivity gains when they move to Office 365. Comcast email users can move to Office 365 offered by Comcast, or better still save money by moving to an Office 365 Cloud Solution Provider such as Apps4Rent.
What Are the Advantages of Switching From Comcast to Office 365?
Although Xfinity users get Comcast.net email as a bundled service, there are several reasons why it might be beneficial to switch to Office 365/ Microsoft 365 emails from Comcast.
Exchange Online in Office 365/ Microsoft 365 is a much more robust service, and most businesses, including a majority of the Fortune 100 companies, use it for collaboration.
Unlike Comcost.net email addresses that will be disabled if you are no longer an Xfinity customer and have not accessed your account in 90 days before discontinuing the service, you are not tied to a particular ISP for accessing Office 365 mailboxes.
You get additional services, such as OneDrive for Business, Microsoft Office Online applications such as Word Online, and Excel Online, which are bundled with your subscription.
There is much better protection against spam emails with Microsoft Defender for Office 365.
How to Migrate Comcast Email to Office 365?
Migration from Comcast.net email to Office 365 is a two-step process. In the first phase, you will have to configure Comcast for Outlook. Eventually, you will have to ensure that new emails arrive in the Office 365 mailbox. Here are the steps for Comcast to Office 365 migration.
In the first phase, you will have to install Microsoft Outlook on a computer and configure Comcast.net email on it.
Launch the Outlook application, navigate to File>Account Settings>New> Email Account>Manual setup or additional server types> POP or IMAP.
Enter your credentials, including your name, Comcast email address, and password.
Enter the incoming mail server and outgoing mail server details for Comcast.
Enter the port details for the incoming and outgoing mail and ensure that the connections are encrypted.
Once you have finished the setup, Outlook will perform a few tests to confirm that the configuration is successful. Now you will start receiving Comcast emails in Outlook.
The next phase involves importing emails and other items into Office 365 mailboxes and redirecting Comcast emails to Microsoft Exchange Online Server. This involves updating DNS records to point to Microsoft and could require technical assistance.
This process, however, is effective only for moving single mailboxes. If you need to transfer multiple Comcast.net mailboxes to Office 365 along with attachments and other items, it is ideal to use third-party tools.
Apps4Rent Will Save You Money on Moving to Office 365
For long time users of Comcast.net, preserving the integrity of email contents is the top priority. There is always a risk of corruption while migrating large volumes of emails from one service to another even if you are using third-party tools. While Comcast does provide Microsoft 365 migration assistance, plans offered by Comcast can be up to 40% higher than their corresponding price offered by Microsoft.
As a Microsoft Solutions Partner, Apps4Rent has helped thousands of users migrate securely from various service providers such as Google, Yahoo, AOL, and GoDaddy email to Office 365. We can migrate your Comcast emails to Microsoft 365/ Office 365 at no additional cost over the price offered by Microsoft. Contact our Microsoft certified migration experts, available 24/7 via phone, chat, and email for Office 365 migration assistance.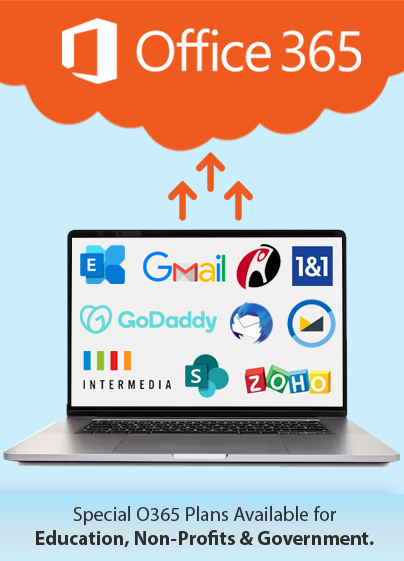 Get FREE migration from
Comcast to Office 365