Pobox is a US-based company founded in 1995, which provides email hosting services with a range of features. One of the primary features of Pobox is its spam protection, which filters spam messages and also lets users customize the filters based on their needs. Other features include Block By Country, Vacation Mail, Trusted Senders, and Delivery Groups that help businesses in managing their email accounts efficiently. While it offers these many features, this may still not be the best option for those who require a large amount of storage space, robust collaboration tools, and up-to-date security. Hence, users prefer migrating to other email hosting providers such as Office 365 for better productivity. In this article, we will explain how to migrate from Pobox to Office 365.
What Are the Advantages of Migrating from Pobox to Office 365?
There are numerous advantages of migrating from Pobox to Office 365. Here are some of them:
Microsoft 365/ Office 365 comes with Microsoft-managed cloud-connected features such as Word, Excel, and PowerPoint, as well as additional services and collaboration tools including Teams, SharePoint, OneDrive for Business, and Yammer.
Microsoft 365/ Office 365 offers a range of robust security features, including multi-factor authentication, data encryption, threat protection, compliance features, mobile device management, and identity and access management, which help businesses to protect their sensitive data and stay secure in an increasingly complex cyber threat landscape.
Microsoft 365/ Office 365 includes business intelligence tools, such as Power BI, which allows users to analyze and visualize data to gain insights and make informed business decisions.
Microsoft 365/ Office 365 offers 50GB of mail storage on all its plans, as well as OneDrive, which comes with 1TB of cloud storage and can be increased further depending on the licensing plan.
Microsoft 365/ Office 365 includes project management tools, such as Planner, which allows users to create and manage tasks and projects.
Steps for Migrating Emails from Pobox to Office 365/ Microsoft 365
Follow these steps for migrating emails from Pobox to Office 365.
Log into your Outlook account.
Assign Microsoft 365/ Office 365 licenses to the users who are to be migrated from Pobox to Office 365.
Add the Pobox account from File > Add Account.
Select "Let me set up my account manually."
Next, from the "Advanced options" choose "IMAP service."
Generate a list of the usernames and passwords for the Pobox-hosted emails in a CSV file, then enter the data in the Microsoft 365 admin center.
Establish a connection by creating endpoints between the Pobox servers and Office 365.
Create migration batches and initiate the IMAP migration.
Change the DNS records to re-route emails to Office 365/ Microsoft 365 mailboxes.
Finally, delete the migration batches from the Exchange admin center.
Apps4Rent Can Help with Pobox to Office 365 Migration
Migrating from Pobox to Office 365 will help businesses to leverage the advantages of a more comprehensive, flexible, and integrated suite of productivity tools, advanced security features, AI-powered tools, and a more consistent and unified experience across devices and platforms.
As a Microsoft Solutions Partner, Apps4Rent has been performing Office 365 email migrations for more than 16 years and can also help you to seamlessly migrate from Pobox to Office 365. Contact our Microsoft-certified migration experts available round-the-clock via phone, chat, and email for assistance.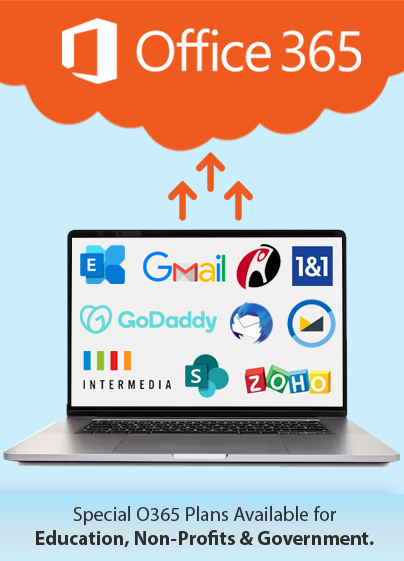 Get FREE migration from
Pobox to Office 365