StartLogic is an American email hosting company, which also provides a comprehensive suite of online hosting services suitable for small and medium-sized businesses worldwide. Its email service comes with viruses and spam protection, as well as other features such as a calendar, task manager, and contacts. Large organizations may face issues due to a lack of additional functionalities and instead opt to use fully managed cloud-based solutions like Office 365. These typically offer better functionality, scalability, security, and are hassle-free in terms of setup and management. In this article, we will focus on migrating emails from StartLogic to Office 365.
Why Migrate from StartLogic to Microsoft/ Office 365?
The Office 365 productivity suite offers several advantages over the StartLogic email services. Here are some of the advantages.
Features such as autocomplete, and other AI-assisted and machine learning capabilities are built into the Office 365 suite.
As Office 365 is a Microsoft managed service, and users enjoy much better support, security, and frequent updates, as compared to StartLogic email.
In addition to the email service, Office 365/Microsoft 365 offers a productivity package with a number of additional products and services like OneDrive for Business, Teams, and SharePoint.
StartLogic offers a maximum of 10 GB of mail storage, whereas Office 365 comes with a minimum of 50 GB mail storage space on all its plans.
How to Migrate from StartLogic to Office 365?
Here is the procedure involved in migrating from StartLogic emails to Office 365.
Install Outlook on Windows machines and add the StartLogic server details in the IMAP settings.
Procure Office 365/ Microsoft 365 licenses for each user that must be migrated.
If there are numerous StartLogic email users, collect their login information along with the admin's credentials in an Excel sheet in CSV format. Map the users with their new Office 365 mailboxes in the Microsoft 365 admin center.
Create a migration endpoint between the StartLogic hosting server and the Exchange Online server.
Depending on the user count and mailbox size, create batches of mailboxes before beginning the migration process.
Route emails being sent to StartLogic mailboxes to the new Office 365 mailboxes by changing the DNS records.
Stop the email synchronization between StartLogic and Office 365 and delete the migration batches.
Apps4Rent Can Help with StartLogic to Office 365 Migration
Migrating from StartLogic to Office 365 gives businesses more capabilities and flexibility with its wide range of additional features and services. Also, Microsoft provides a 99.9% uptime guarantee to ensure that businesses have access to their email and other services at any time.
As a Tier 1 Microsoft CSP, Apps4Rent provides Microsoft 365/ Office 365 licenses at an affordable price and Office 365 email migration services at no extra cost. We can also help businesses migrate from StartLogic to Office 365 hassle-free. Contact our Microsoft-certified migration experts available 24/7 via phone, chat, and email for assistance.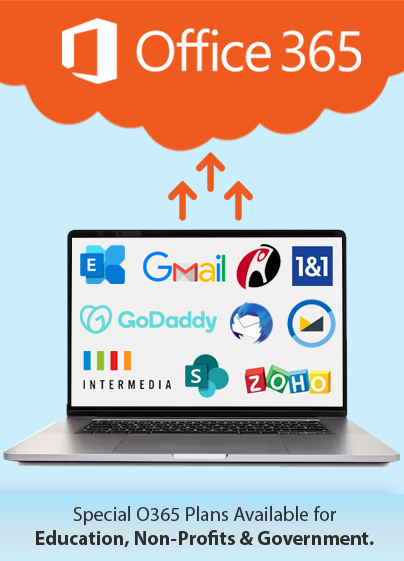 Get FREE migration from StartLogic to Office 365